Arc'teryx Sphene Jacket – Unconscious Competence
I've been thinking a lot about what sort of product is better: a product that noticeably improves your experience doing whatever it is you do with said product or a product that is so fine tuned that you don't even notice it. This becomes hugely apparent in ski touring. What's better: a piece of gear that you use all day but stays under the radar and does what it has to do or a piece of gear that is more flashy but perhaps at the cost of being more obtuse and finicky? It correlates a lot to the psychological stages of competence model. If you're at the stage of unconscious competence in say ski touring or whatever it may be, would it not be ideal to have gear in line with this stage? Take a look at an ACMG Mountain Guide and the way they use their gear; everything is where it should be without much thought into it.
This is the debate that I've been quarreling with whilst testing out Arc'teryx's new Sphene Jacket. As a self proclaimed gear whore, I've owned a fair few Gore-Tex pro shells in my day. Most of them dawning a dead bird symbol just above my heart. Considering the benchmarks required by the Gore-Tex brand for any piece of apparel using their technology, it leads to only a few variables that differentiate one jacket from another such as colour and fit. The point I'm getting at here is this: as a gear reviewer, how can I discern what makes the Sphene jacket so great (or so bad) when compared to competitor jackets that use the same membrane and technology? These are the hard hitting questions I attempt to figure out in the following review.
---
The Sphene Jacket is a backcountry skiing specific jacket that's made as simple and light as possible so that it packs up super small in a backpack. The fact is, when ski touring, one's shell resides in their backpack 80% of the time (statistics pulled out of my ass.) Therefore, it's worth sacrificing a bit of durability in return for an ultra-compact jacket. Before diving too deep into the grit of the jacket review though, I want to level the playing field of the waterproof jacket world.
The Playing Field
As mentioned, the Sphene Jacket from Arc'teryx is a Gore-Tex Pro Shell. For those who haven't been baptized at the church of ultra-expensive waterproof breathable fabrics, here's a quick graphic I found on the Arc'teryx website that gives a quick rundown on what that really means: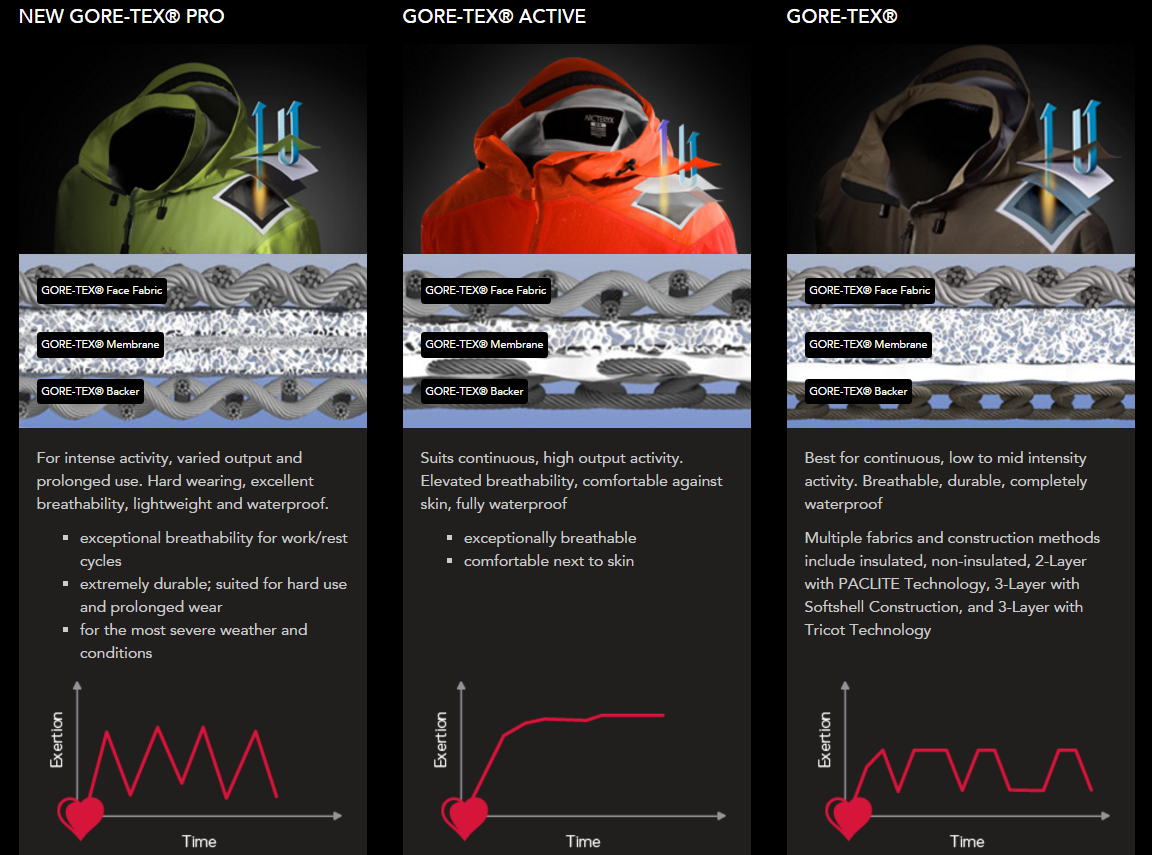 Any multinational outdoor apparel company has access to this technology if they so desire. And after using a multitude of Gore-Tex pro shells from different brands, I can attest that most of them are equally waterproof and breathable.
With that out of the way, it's easier to look at what makes the Sphene Jacket special compared to other jackets that utilize the similar technology.
Zippers, Pockets, and Other Nuggets
When I was rambling about unconscious competence and all that fluffy stuff, I had features such as pocket location in mind. If you go through a day of ski touring without having to think too much about where the pockets are located, how big they are, or if they're being obstructed by your backpack, that's the sign of a well crafted product. Naturally, what I'm getting at is that the Sphene Jacket has this dialed perfectly. The two main pockets are big, but not too big that they run underneath a backpack strap. The pit zips are there, but so low profile that I actually didn't know the jacket had pit zips until my buddy pointed them out to me! Perhaps that can be attributed to excellent design but probably also has to do with me being shitty gear reviewer! But seriously, your marketing dollars are in good hands Arc'teryx, I promise (on that note this seems like a good time to plug in the disclaimer that I did not have to pay for this jacket and therefore that inherent bias is at play in this review.)
A couple other cool little features I've noticed in this review:
There's a tiny sleeve in the left pocket made for putting your RFID pass in. After being bummed about not having a left arm pocket to slide my pass into, this did slightly make up for it. Nonetheless, Arc'teryx… if you're reading this… it's 2017 now. Most resorts have RFID technology at their lifts and the few extra grams of having that extra zipper at your elbow to put your pass into is in my opinion a necessary evil. Considering it took 2 months for head honcho Jamie Bond to notice the RFID sleeve in the left pocket, I think a dedicated space for the pass would be better. Or maybe Jamie's just getting old 😉
The waist drawcords are DIALED! I've started to see this technology in a lot of jackets and am really enjoying having it. It makes adjusting the drawcords with gloves on much easier. I don't really know the technical details of the system, but can attest it works well.
Fit & Look
It's pretty shallow of me to say, but with all Gore-Tex Pro Shells having the same technical capabilities, the key differentiation factors between all these similar jackets would naturally be the look of them, right? Right. The Sphene Jacket is an aesthetically simple and slick jacket with bold colours and a face fabric that's hard to describe. It looks glossy, feels glossy, and yet is incredibly durable. I've yet to see anything like it! It's a nice touch and from what I've gathered has technical intentions in mind too. The face fabric is very packable due to this light face fabric which is great for those out there who like to earn the turns (the majority of people these days.)
In terms of fit, my perception is definitely skewed. I'm tall and I'm lanky. It's difficult to get something that fits long enough but isn't made for someone twice the weight of me. I went with a size large in this jacket and sometimes wish I went XL for the longer cut. Then again, it is nice to have the smaller sized jacket when I'm stuffing it into my backpack. Trade-offs are the name of the game in this world, eh!
The Doors Music Capabilities
Like their famous song goes, I guess I would call myself a "rider on the storm." You don't buy a Gore-Tex jacket to use it on sunny days, you use it in the hopes of protecting oneself from the elements when they get thrown at you. With that in mind, I set my sights on the harshest of conditions, the GNARLIEST of terrain, the FIERCEST OF STORMS. Just kidding, all I did was ski deep pow and bushwack in the Duffey during a storm with the jacket on. Here's some of the results from my "rigorous" testing:
As you can see in the previous video we shot in November, the jacket managed to protect me during these trying times. All I can say is thankfully this jacket has a powder skirt. Wait, I don't even use powder skirts because I have bibs. Well it's there if you want it people.
This day in the Duffey, it was snowing 3cm an hour easily. In these conditions, everything eventually gets wet. So although I must attest that water did soak through the Sphene Jacket mostly through its water-resistant only zippers, I did not get drenched. Furthermore, after getting back to the car after the long day spent in trenches, the jacket was dry in 45 minutes which I found pretty rad!
Final Remarks
Initially, I had trouble figuring out what to write about for this jacket review. The jacket doesn't have any groundbreaking new technologies or flashy features. It doesn't suddenly make me a better skier or anything. But that's when I started considering that with it being a jacket I've used everyday this season but have hardly paid attention to, that's actually one of the most substantive outcomes any dignified apparel company should seek out: unconscious competence. This jacket is a refinement of many generations of Arc'teryx pieces that have come before it. Like a reliable car, this jacket does the job its meant to do seamlessly and it's hard to comprehend how slick it is until you consider the implications of what would happen if you had a badly designed jacket on you.
Well done Arc'teryx, well done.
Finally, big thanks to my good friend Sam Mckoy who took the cover photo and a number of photos in this review. You can check out his photography here if you like http://sammckoy.com/
Comments
The Breakdown
---
Storm Riding Capabilities
8.5
How cool I felt while wearing this jacket
9.5
---
---
---
---